Cadillac Ownership Benefits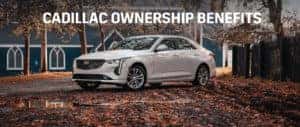 Cadillac Ownership Benefits
Welcome to the Cadillac Experience. There's an old saying that "Nothing rides likes a Cadillac" which remains true to the present day. The quality craftsmanship is unmatched, couple this with the smooth quiet ride and you have a vehicle that's not only going to turn heads, but you'll also enjoy driving Every. Single. Day.
Owning a Cadillac comes with the perks that also separate it from other luxury car brands. We at Hickman Cadillac are proud to offer the Cadillac Experience whenever our customers walk through our doors. From the time you enter our showroom, you can expect to be treated like family, each and every visit.
Cadillac Service Benefits
Owning a Cadillac separates you from the pack, which means service benefits for you. At Hickman Cadillac we are proud to offer the following:
 4-year/80,000 km Premium Care Maintenance and Warranty. This includes free oil and filter changes, tire rotations and multi-point vehicle inspections.
 Concierge Service/Courtesy Transportation: Our customers will receive a service loaner while your vehicle is in for its regular maintenance. Customers also have the choice of taking our Cadillac shuttle if they would prefer to do so. We also offer a customer valet pick up and drop off service* where our Cadillac staff will come to you, pick up your vehicle for its regular maintenance, and then return it to you, saving you the hassle of ever coming into the dealership.
 Complimentary Exterior Car Wash: Customer will receive a complimentary car wash with each service appointment.
Additional Benefits Include:
Two years of OnStar Safety and Security Coverage.
Two years of navigation services.
Six months of Cadillac Remote Access Plan.
Three months of 3GB 4G LTE Data.
10 Years of connected access to vehicle diagnostics.
Acceess to MyCadillac mobile App for additional features.
Pick Up And Drop Off Service
You deserve the very best in service. That's why at Hickman Cadillac we are now proud to offer convenient Pick-Up & Drop-Off Service for your vehicle. You don't even need to step into our dealership! It's our way of saving you time so that you can focus on what's important to you.
No worries if you're stuck at home or at work. Our free Pick-Up and Drop Off Service will collect your car from anywhere within the Metro Region and bring it to our dealership for the necessary work. We'll even bring back your vehicle to the location of your choice.
Stand Out From The Rest
Whether your purchasing your first Cadillac or your fifth, we are dedicated to providing you exceptional customer service in all Cadillac departments. Check out our new Cadillac inventory or book your online service today. We look forward to seeing you.