2023 Cadillac Lyriq
All You Need To Know About the 2023 Cadillac Lyriq: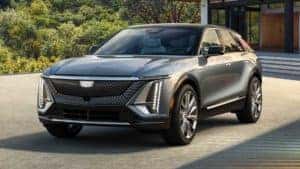 Overview:
The 2023 Cadillac Lyriq is Cadillac's first ever full electric vehicle offering advanced luxury comfort with more than 300 miles of range on a full charge. Starting at $59,995 (USD), the Cadillac Lyriq will come in much more affordable than its direct competitors like the Tesla Model X, the Jaguar I-Pace, and the Audi e-tron.
Engine and Drivetrain:
The Lyriq will come standard with a rear wheel drive platform with the option of all-wheel drive as well, all of which will be powered directly through a fully electric motor that produces 340 horsepower.
Battery Information and Range:
The Cadillac Lyriq will be powered by GM's new EV battery technology, Ultium. These batteries range in size from 50.0 kwH (kilowatt/hour) to 200 kWh. The Cadillac Lyriq battery will offer about 100-kWh worth of capacity which means that the Cadillac Lyriq will be able to travel more than 300 miles on one charge.
Interior Comforts/Technology:
Like many other Cadillac models, the 2023 Cadillac Lyriq comes equipped with premium leather interior and wood grain finishes. However, the dash is where the 2023 Lyriq really stands out with a 33 inch curved advanced LED display that serves as the SUV'S infotainment system and the driver's gauge display. Wireless Apple CarPlay and Android Auto will be standard as well as a 19-speaker AKG stereo system.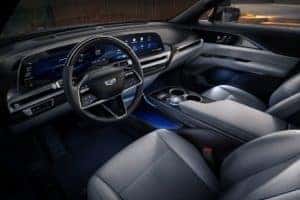 For more information about the 2023 Cadillac Lyriq, simply fill out the form below!